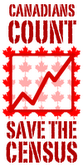 Yesterday's CPAC watching, and that thing called a job, means that I got a bit behind on my Census media round-ups.  Mia culpa!
Also, you will have noted that I post the articles as I find them, meaning they are not in any kind of chronological order or in any order of importance.  I may have missed one or two, and maybe a link is off.  If that is the case, just let me know and I will add and fix. Also, I am finding it hard to keep up. I must say reading the #census twitter feeds every morning is making me cross eyed!  Bref!  Please send stuff to help me keep the list up to date!
enjoy this loooooooog list.
3 important resources:
Great francophone media Reviews & Roundups: pabsta aka Pier-Andre Bouchard St-Amant. He also maintains a fabulous list of ceux qui Appuis au questionnaire long obligatoire
Another great insiders source: Canadian Association of Public Data Users (CAPDU)
Canadian Council on Social Development (CCSD): Long Form Census Tool Kit
Les manchettes / les clips:
Nature Editorial: Save the census
Globe and Mail: Race is on to find compromise on census
The Ottawa Citizen: I hope MPs can end census hostage-taking
Cyberpresse: Crise du recensement
Agence Science-Presse: Vie privée et recensement
Radio Canada: Le ministre Clement devra s'expliquer
Parti Quebecois Statement: Abolition par le gouvernement conservateur du questionnaire détaillé pour le recensement : que fait le gouvernement Charest pour s'opposer à cette décision?
Canadian Press: Minister sticking to census decision
Le Devoir: Recensement: un sondage volontaire ne fonctionnera pas, selon l'ancien dirigeant de Statistique Canada
Morton's Musings: 5 days to disclose census documents
The Tribune: Clement, opposition face off on census
Andrew Smith's Blog: The Census Flap illustrates that history professors are useful to society
Globe and Mail: Business concerned over census changes Entrepreneurs, economists rely heavily on data from the long-form census, and most can't afford the alternatives
Globe and Mail: Census call is part of data-collection trend We should think seriously before making changes that will affect governments' capacity to deliver good public policy
My Canada: Integrity and Leadership: Munir Sheikh
Ralph Goodale Speech on the Census
This Magazine: Margin of Error #5: Don't just preserve the long-form census. Set its data free
Times Colonist: Census lets government serve us better
The Star Phoenix: Long-form census data key for schools
Edmonton Sun: Stelmach says surveys are valuable
Impolitical: Official languages census concession
The Mark: A Census For Our Times
The Peterborough Examiner:  Pellizzari speaks out about long-form census Medical officer of health sends letter to politicians
Winnipeg Press: Census compromise? Minister, opposition consider options
Cyberpresse: L'écart se resserre entre libéraux et conservateurs
Le Soleil: Mode de recensement: un débat mondial
Moregen Peers: TonyClement_MP, what's the big idea?
Vancouver Sun: StatsCan in turmoil over decision to scrap long-form census
Vancouver Sun: Crucial information will be lost with census change, experts warn Former StatsCan head speaks for first time Parliamentary Bureau
le Devoir: Le recensement sera volontaire, point Le ministre Tony Clement refuse de faire marche arrière, mais il se dit néanmoins ouvert à évaluer les options qui vont dans le sens de sa réforme
Vancouver Sun: National economic and social data depend on long-form survey
Vancouver Sun: Census change could make everything StatsCan does suspect: B.C. experts: Everything from inflation to unemployment rates rely on census data
Globe and Mail: Long or short, Tories must retreat on the census
Law is Cool: The Canadian census debate—a background
Niagara this week: Reverse decision on 2011 Census
Flying Flux: When Politicians Play Scientist
rabble.ca: The anti-information information society, brought to you by the anti-government government
Miskatonic University Press: Census data matters
Progressive Economics Forum – The Crisis at Statistics Canada
The Star Phoenix: Base census policy on public good
Winnipeg Free Press: Scrapping of long-form census sparks fears for future of bilingual services
Times Colonist: Census changes unfair to First Nations Already-marginalized communities won't get data they urgently need
Globe and Mail: Canada's census challenges aren't unique
nextgov: Census Fears Spill Over the Border
Winnipeg Free Press: StatsCan credibility, independence feared damaged in census scrap
Pitney Bowes Business Insight: Census Changes in Canada Will Jeopardize Data Quality
Canadian Jewish Congress: Compromise on census, ex-StatsCan head pleads
The Province: Ideological decision
BI Professional: A Senseless Change to the Census in Canada
Vancouver Sun: It's time for Canadians to stand up for the census
rabble.ca: 2011 Census
The Montreal Gazette: Statistics council suggests compromise to end census battle
Social Policy in Ontario: Harper's census push months in the making
Macleans: He said, he said
Nepean Mix: Statistical Sampling and the Long Form Census
Hill Times: Trying to explain Prime Minister Harper's decision to make the long form of the census voluntary The destruction of part of the nation's statistical data base is just part of the 'blow by' for Prime Minister Stephen Harper's relentless ambition.
Munir Sheikh's Resignation: Media advisory: 2011 Census
Canada East: Industry Minister and former Stats czar among witnesses at Commons committee http://www.canadaeast.com/article/1150068
NDP Online: National Statistics Council on the Census
Ed stimulus.org: MICHAEL VALPY'S VIEW ON THE CENSUS FIASCO
Caledon Enterprise: Mandatory or voluntary?
Whig Standard: Scrapping long-form census is senseless, Queen's prof says
CTV Edmonton: Panel calls for compromise on long census