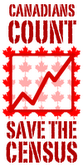 Via: BI Professional
An introduction for my many international followers:

King:  Canadian Prime Minister Stephen Harper
Page:  Canadian Industry Minister Tony Clement
Statistician:  Recently resigned head of Statistics Canada, Munir Sheikh

Special thanks to data quality expert Jim Harris whose Dr. Seuss-style data quality limmericks and songs served as a partial inspiration to this piece.  His blog can be found on my Blogroll (Obsessive Compulsive Data Quality).

Enjoy!

Good King Censusless looked out
On the cottage season.
With the sunshine round about
Warm and crisp and even.
Everyone was drinking beer
Feeling great elation.
How could he disrupt the cheer
breaking cross the nation?

"Mr Clement, come by strife,
If you know so, say it.
How can I make foul the life
Of the summer respite?"
"Sire, a man I once knew long
Loathed the census taking
If you could remove this wrong
You'd be nation-making."

"Make it so", he said at once
With no consultation,
"Though I may be thought a dunce
Causing consternation."
Statistician would not toast
His part in this madness.
He would rather quit his post
Causing him much sadness.

Harper bellowed "What a fool!
Get that man to focus!
He should know that math's not cool,
Stats are hocus pocus."
Statistician stood his ground
In the public's favour.
He said he was honour-bound;
People saw him braver.

"Bring me hatchets, bring me fire,
We shall burn his cabin!
He's earned my unholy ire!
He won't know what happened!"
Page and Monarch, off they trode,
Off they trode together
Feeling stormy, yet instead
Of the sunny weather.

Statistician's cabin burned
To the ground next morning.
Page and Monarch never learned,
Though this be a warning:
Cabin dwellers all be sure
Be you all accounted,
Those who cannot count the poor
Can't themselves be counted.
Comments are now closed.