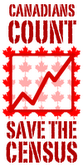 I maintain a list of actions, lists of lists and other media round up sites at the bottom of Census Watch and thought I would elevate them.  There are but a few weeks before the house sits (Sept. 20) and I thought you all might like to do a few things in preparation.  The local action is critical.
1. Canadian Council on Social Development (CCSD):  Long Form Census Toolkit
Grass roots local action is key, especially in Tory ridings.  Very helpful information, templates, letters, and tips on talking to your MP.
2.Community Groups: Save our Census
Resources, tool kits, action letters, bumper stickers and more
3. Petition: Keep the Canadian Census Long Form Petition
Over 15 000 signatures so far! Go sign it.
4. New Brunswick Advisory Council on the Status of Women: Take Action et En action et ; A woman's View & Le point de vue d'une femme
Information on taking action in New Brunswick, and talking points on why the census is important for women
5. Caledon Institute of Social Policy: Stand up for good government, MPs*
Reflections on governing when letter writing and voting
6. Community Dispatch: Changes To 2011 Census Threaten Community Data
Census issue explained bu community Development Halton  and action items.
7. Citizens Engaging Democracy, Newmarket-Aurora
facebook group, local coffee meetings to plan for local action
8. Vote on the Digital Strategy Submission: Reinstate the Census Long Form
Well we know what happened here! Just a reminder about a consultation gone bad!
9. Letter Writing: Canadian Institute of Planners
10. Facebook Page: Keep the Canadian Census Long Form
Comments are now closed.