It looks like a biased toward industry monitoring agency Regional Aquatics Monitoring Program (RAMP) has left the public in the dark about fish abnormalities in waters in and around the oil sands sites.  It is also a case where the monitoring agency is aggregating the data into annual reports and not providing the raw data for others to scrutinize.
"That is the problem. To get the actual data, you need the raw data," not just annual reports, said Kevin Timoney, an Alberta ecologist and oil sands researcher. "They release just enough so they can say that they did, but they don't give you enough to see what's really going on."
Pembina Institute: "An essential component of any credible monitoring program is that all the data should be available to the public,"
Hundreds of deformed fish found in rivers running through the Alberta oil sands have been collected and documented by an industry-led monitoring body, The Globe and Mail has learned, but the findings were not shared with the public or key decision makers in government.

That body, the Regional Aquatics Monitoring Program (RAMP), has been criticized in scientific quarters as secretive and is under the scrutiny of three reviews. Former environment minister Jim Prentice ordered one of those reviews after being shown photos this fall of a few malformed fish, and it was delivered Thursday to Environment Canada.
The Monitoring agencie's Steering Committee is mixed between Oil industry, public health agencies, First Nations and government with very heavy emphasis on big oil industry:
I tried to find out who the members of the technical committee are but only found the following org chart which illustrates that the 3 non government stakeholders are First Nations or Metis Groups and these are dwarfed between industry and government. On the Government side you also see an Energy and Utilities Board, while on the industry side, by the largest number representatives,  is the petroleum & energy industry: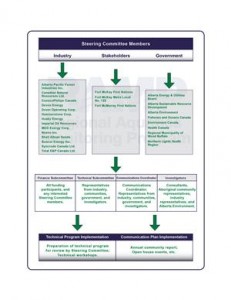 The following are the labs RAMP states it subs it's work to.  I do not know enough the science to assess them.  I do wonder if they would have the raw data in their shops and if they would release these to the public.  A lab that is sub-contracted may or may not be the owners of the data and may or may not have given up the rights to publish them.  This is often the issue with the procurement of data, for instance, survey engineers claim IP on their data and share them with a city only for city assessments, but the city has to send citizens back to the survey engineer to view those data and the city cannot share these with citizens openly.  In this case, it would be more trustworthy to acquire the raw data from the labs directly.  However, it also depends who owns these labs.  They could very well be owned by the industries that need tests done, or they could be biased toward those industries as they would be their major source of revenue.
ALS Environmental – most water and sediment quality analyses
Alberta Research Council – some ultratrace metal analyses
AXYS Laboratories – sediment concentrations of PAHs
HydroQual – water and sediment toxicity analyses
Flett Research – mercury analysis in non-lethal fish tissue samples
Jack Zloty – benthic invertebrate taxonomy
RAMP shares its information only in annual monitoring reports.  There is an interactive web map of their monitoring sites.  The legend indicates fish tissue monitoring site, and I only found 2 fish tissue sampling sites that do not provide much data except that a sample was taken. According the the G&M article:
Much of the raw data collected by RAMP is kept private, deemed proprietary because of the industry funding. But even among its members, it has faced pressure to open up. Syncrude, which did much of the testing before RAMP's inception, has called for data to be released, spokeswoman Cheryl Robb said.
In RAMP's news section there is reference to an article indicating that they would make their database available to the public.  I could not find this database on their site and have sent them an email requesting to see it.  The email I recceived regarding this request is as follows:
Good morning Tracey,

Thank you for your e-mail.

As indicated by the media post you pointed out, the database will be available to the public by the end of the year and that is still our intention. Please check back next week.

Best regards,
Hailey
RAMP Communications
This is a classic lack of transparency situation and a seeming stacked deck leaning heavily toward meeting industry interests. It is very reminiscent of the Environment Canada refusal to share Mine Pollutant Data, a government agency supposedly overseeing the public interest not sharing key data.