Over the weekend I had the privilege of participating in the Journée de l'accessibilité de Montréal accessible co-organized by Catherine Roy of RAPLIQ (Group for an inclusive Québec) and Jean-Noé Landry of Montréal Ouvert.
This was an extremely well organized event.  A week before shop keepers were advised by way of posters and handouts that a survey in their neighbourhood was going to be conducted.  People pre-registered which allowed for the creation of teams.  At noon on June 30th we gathered in an accessible square where we received instructions, picked up water supplies and met our team members.  There were 9 teams of 3 or 4 members each, equipped with a list of addresses and the name of establishments on Saint-Hubert street in Montreal.  It is a lovely street in the north of Montreal close to the Jean-Talon market.  Most importantly, the sidewalks are covered which makes this an ideal shopping space in the winter for people in wheelchairs.  We all had a clip board, blank survey sheets, annex survey sheets to assess restaurant washrooms, and a pen.  All teams comprised a person with disabilities, either visually or mobility impaired.  My team included Pierre Lemay, Xavier, and a city Councillor.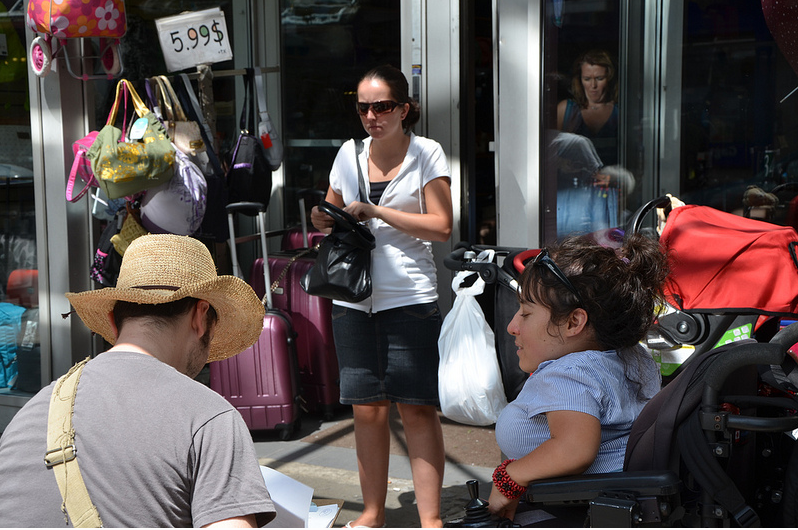 The process was to go to shops, boutiques, hair & nail salons and restaurants to evaluate the accessibility of: entrances, doors, the interior passage ways between wares, change rooms, washrooms, interact machines, the size of price tags and the conviviality of shop keepers.  We were well received by the shop keepers and it became an educational moment for able bodied data collectors who most often had to leave a member of their team at the door as they could not enter and for shop keepers who realized that a doorbell could make a world of difference to people in wheelchairs who would otherwise not be able to make a purchase.  Getting an ice cream cone on a hot day was a challenge.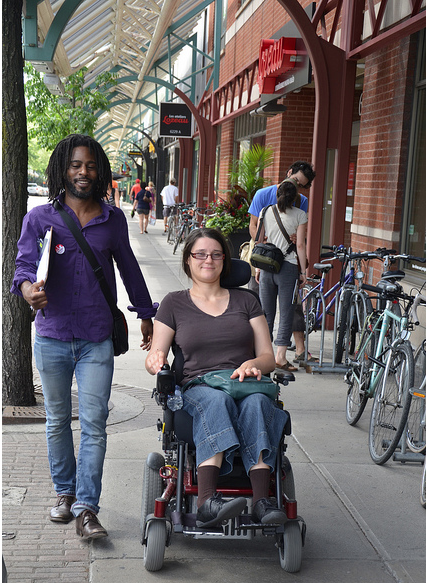 At the end of the day, the organizers arranged for all to meet at an outdoor patio to drink a free beer provided by the Montréal Ouvert crew. This was a time to verify gathered data, recommend survey adjustments, and exchange experiences.  The collected data will later be entered into a database and then mapped.
The first prototype of this project was created on Feb. 25, 2012 as part of a Hacking for Health event and this is their first map.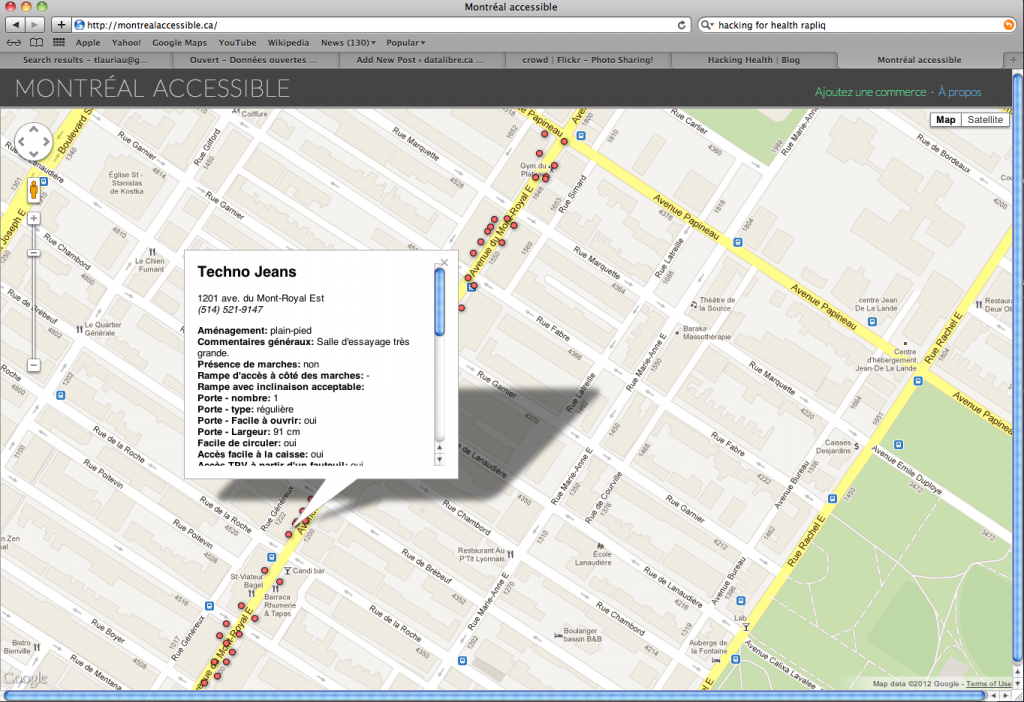 That team won the Hacking for Health contest and were awarded 400$, and some of those proceeds were used to purchase the 1st beer on Saturday.  I look forward to seeing the maps, hearing about how the results will be analyzed and then disseminated.  It was a great way for me to spend a Canada Day weekend with friends in Montreal and doing some citizenship.
Finally, this was a great way to match up disability activists and advocates, citizens at large, open data app developers, folks from Open Street Map, and public officials.  It was a day to hack space in an inclusive and low tek way.  The digital tek will come afterwards.  We also got a glimpse of the material effects of spaces produced from an able bodied geographical imagination.  I got closer to understanding what an inaccessible city is, and how we spatially segregate citizens with the built environment and this participatory mapping and data collection event was a great way for a group of people to collectively re-imagine the city and by doing so changing space.