Here we go again!
The Conference Board of Canada, well, they just don't seem to get this unbiased reporting thing straight. For instance, a member of their board, Deepak Chopra who is the President and Chief Executive Officer Canada Post Corporation, well, need I say more? How does one produce an independent unbiased think tank report, when… This is not the Conference board of Canada's first little oopsy, on this front, recall the The Conference Board of Canada's Deceptive, Plagiarized Digital Economy Report, as meticulously deconstructed by Michael Geist.
The report was downloaded and reposted in slideshare for posterity's sake. Should you wish your own copy, by all means go to the Conference Board of Canada's website and download: The Future of the Postal Service in Canada. We all want informed decision making, but really?
I also screen captured the list of the Conference Board's board members and composed the following png. I captured these images from the following link, today, 16 Dec. 2013, http://www.conferenceboard.ca/about-cboc/bod.aspx. I recommend you do the same before this too disappears from the record!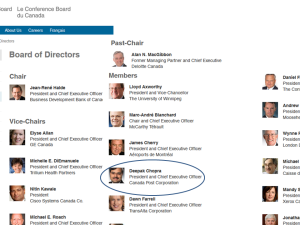 Thank you friends on the CivicAcces.ca list for pointing me to these!
Voici le rapport en Francais, qui est disponible ici du Conference Board of Canada.