A member of the Civicaccess.ca list, Ted Strauss, was perplexed about  a Canada Post data point frequently reported in the media!  It has oftern been repeated that "2/3rd of Canadians already don't receive home delivery" which seemingly justifies the cancellation of mail delivery to the doors of Canadians.  In a sense this is manufacturing concent for the cancellation! Another member of the list, Jean-Noe Landry pointed us to the following 'unbiased' report  by the Conference Board of Canada: The Future of Postal Service in Canada. On page 3 of that report, Ted found the following table: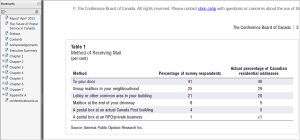 Here is what it reveals:
40% get mail to their door.
20% get mail in the lobby of their building.
5% get mail at the end of their driveway.
That's a subtotal of 65% that most sane people would define as "to their door".
29% get mail at a group mailbox in the neighbourhood.
5% get mail at the post office.
Accroding to this data, two thirds of Canadians actually DO get mail delivered to their domicile, even if said mail is not directly touching their front door.
Ted was good enough to also share several examples where this two thirds figure has been cited.  While a complicated issue, the focus on this one number is helpful.
"Over the next five years, the one third of Canadian households that receive their mail at their door will be converted to community mailbox delivery. This change will provide significant savings to Canada Post and will have no impact on the two thirds of Canadian households that already receive their mail and parcels through community mailboxes, grouped or lobby mailboxes or rural mailboxes."
Canadians are being deceived, and once again the devil is in the details of the data!
UPDATE: Another member of the list, Karl Dubost went further.  Karl elicited a to do list of follow up questions that I parphrase as follows:
These data were collected by Genesis Public Opinion Research Inc.
What is the sample size?
What regions did they sample from?
Did they sample secondary households (i.e., cottages and so on)
What are the stats by different areas across Canada with the labeling and the density of the area?
You can follow the discussion on the Civicaccess.ca list, by all means join, or look into the stream of the discussion archived here.